Beacon Building Products has released its 2021 Corporate Social Responsibility, which highlights the company's efforts to reduce its environmental impact, keep its employees safe and healthy, give back to communities, and uphold the Beacon Code of Ethics and Business Conduct as a guide for everything the company does.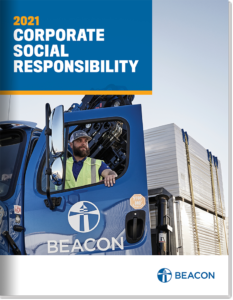 Beacon is also enthusiastic about new directions for responsible growth, and has set a goal of reducing its carbon emission intensity 50% by 2030 with a focus on its facilities and fleet. Beacon launched its Corporate Social Responsibility Council this year, which will be responsible for guiding initiatives and progress and also measuring and tracking work to improve the company's impact. Together with Beacon's employees, suppliers, and customers, the Corporate Social Responsibility Council will help the company build the path to a more diverse and more sustainable future.
Beacon wants to continue to be a leading employer, the most trusted supplier for its customers, and a reputable partner in local communities. The same values that helped Beacon grow to become one of the oldest and most established distributors in the industry will propel the company's growth for years to come.