Boral® Roofing LLC, a provider of durable and energy-efficient new and retrofit roofing systems, has introduced Sol-R-Skin™ BLUE roofing underlayment, a thermal insulating and reflective solution which provides protection from the elements while enhancing energy-saving capabilities. Suitable for use under nearly all steep-sloped roofing materials and ideal for application in any climate and at any temperature, Sol-R-Skin BLUE product is UV resistant and boasts an anti-glare coating in cool blue. Offering Class A fire-rated resistance when applied with stone-coated steel and concrete and clay tile roof systems, the underlayment is also durable and easily installed.
Sol-R-Skin BLUE product combines two of the most energy-efficient materials utilized in construction, including a radiant barrier aluminum surface, which reflects heat with an emissivity rating of 0.03, and a fiberglass mat beneath the aluminum, providing a second layer of heat resistance. These materials are combined into a single product with rating of R-5.5 at the most effective location above the roof deck.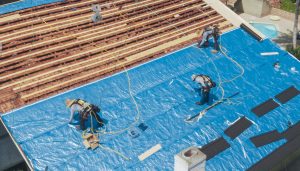 The new underlayment offers Class A fire-rated protection when applied with stone-coated steel, concrete tile, or clay tile roofing materials. Sol-R-Skin BLUE underlayment passes ASTM E-108 Class A fire tests with any of these roof materials. The underlayment solution is also notably listed with California's Office of the State Fire Marshal to be used in fire resistant roof systems in Wildland Urban Interface regions.
Sol-R-Skin BLUE product provides contractors with ease of installation. Offered in lightweight 54"x100' rolls, the underlayment may be quickly nailed into place, with an adhesive strip at the headlap offering wind-uplift resistance. The product's cool blue coating also reduces glare, making it safer and easier to install than alternative shiny aluminum radiant barrier roofing products. The durable aluminum surface helps to prevent leaks at fasteners and won't degrade over time. Sol-R-Skin BLUE underlayment is backed with a manufacturer's limited 30-year warranty.