From Household Name to Bankruptcy Claims
by Trent Cotney, partner, Adams & Reese, LLP
When Celotex was founded in the early 1920s, it produced fiberboard insulation. As the company grew in subsequent decades, it expanded and made other construction materials, including siding and roofing shingles. Before long, it was a household name for both consumers and construction workers.
Celotex Insulating Lumber
The company's first product, Celotex insulating lumber, was later known just by the company name, Celotex. The material was manufactured in the company's plant in Marrero, Louisiana, just outside of New Orleans. Crafted from bagasse, or sugar cane fiber, via a felting process, this product was an exterior sheathing to be used for roof insulation or as a base underneath plaster or stucco. The Celotex insulating lumber was usually sold in boards 4' wide, 7/16" thick, and from 8'-12' long.
Company Expansion
In 1925, a subsidiary called Celotex Company of Great Britain was founded, and it distributed insulation, roofing, and siding throughout Europe, boosting profits for Celotex. In the following years, the company opened new manufacturing facilities in other parts of the United Kingdom, as well as in the states of Alabama, Arkansas, California, New Jersey, North Carolina, Ohio, Tennessee, and Texas.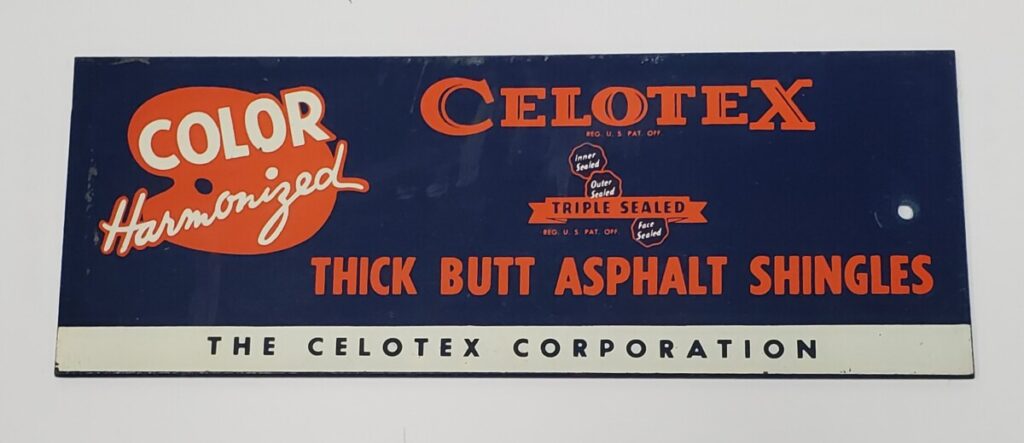 As Celotex increased its product line to include roofing shingles and siding, it also acquired smaller companies. Among them was Carey Canada, Inc., which was a Canadian asbestos mine. In addition to operating asbestos mines for Celotex, Carey created its own brand of construction products. For a time, Celotex was owned by the Philip Carey Company.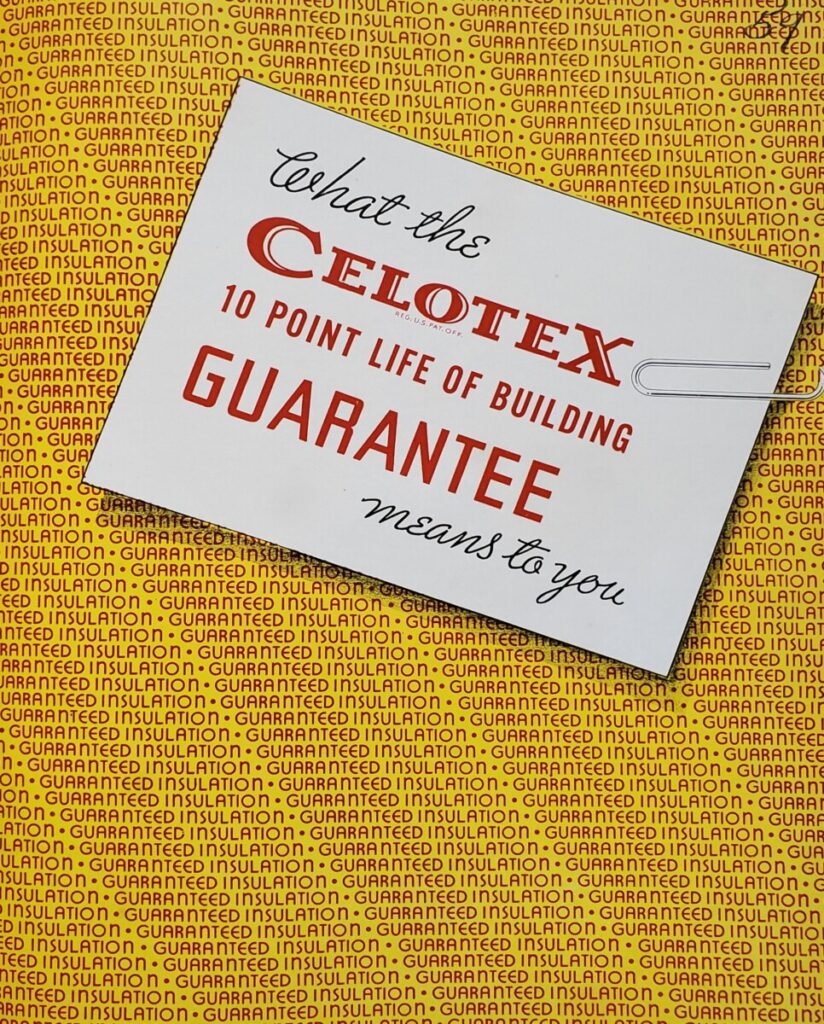 In 1938, Celotex took control of CertainTeed® building products. However, only six years later, R.W. Liazars engaged in a proxy fight to gain control of CertainTeed from Celotex. Over the years, Celotex had begun producing wood fiberboard and gypsum board, and these products were in high demand during the 1940s due to World War II material scarcity.
Sales & Bankruptcy
In the 1960s, Celotex was purchased by Jim Walter Corporation, a homebuilding company, and subsequently reincorporated as Celotex Corporation of America. Celotex headquarters were moved to Tampa, Florida. Throughout its company history, Celotex relied heavily on the use of asbestos. This mineral was popular in many construction materials because it is heat resistant and makes products fireproof. For Celotex and many other companies, asbestos was an affordable option that helped ensure their products resisted fire in residential and commercial buildings.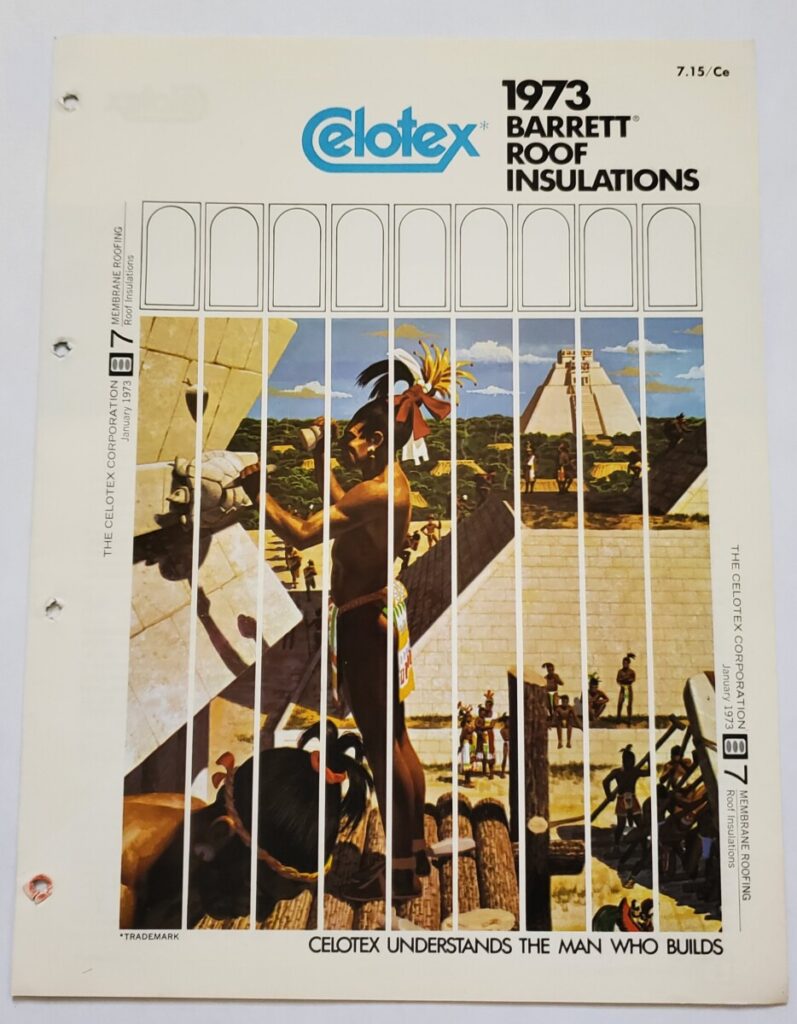 By the 1960s, medical professionals began warning consumers that asbestos exposure could result in serious medical issues, including lung cancer and mesothelioma. However, dangers from asbestos had been suspected for years prior. As time went on, many employees who worked in the Carey mine and in Celotex manufacturing, as well as customers who used the products, began getting sick. Those affected by asbestos exposure filed nearly 400,000 property and personal injury lawsuits against Celotex and Carey. As a result, Celotex stopped using asbestos in its products, and the Carey mine closed in 1986. Eventually, the legal claims forced the company to seek bankruptcy protection. In 1990, it filed Chapter 11 bankruptcy, emerging from it in 1996.
In 1998, Celotex created an asbestos injury trust fund to settle current and future claims of asbestos exposure. Many individuals and their families received settlements from the fund. In addition, in 2003, the trust paid New York City more than $40 million for more than 400 property damages claims for schools and other buildings.
Celotex was sold off in the years that followed. In 2000, the United Kingdom Company BPB PLC purchased Celotex's ceiling product line and gypsum wallboard operations. Also that year, CertainTeed purchased Celotex Roofing. In 2001, Dow Chemical Corporation® bought Celotex's rigid foam insulation product line.
Celotex Today
In 2012, Saint-Gobain, an international leader in the construction industry, acquired Celotex. Celotex continues to produce polyisocyanurate insulating foam board in the United Kingdom. This board is bonded to plasterboard and is used for dry-lining insulation for internal wall applications.