Milwaukee® Tool has introduced its ANSI Cut Rated High-Dexterity Polyurethane Dipped Gloves. These new gloves are constructed of an 18-gauge knit that offers high dexterity with a better fit to help users stay safe and productive while protecting their hands on the jobsite. According to the Bureau of Labor Statistics, 70% of hand and arm injuries happen while users are not wearing gloves or sleeves. These injuries result in over 121,800 hours of lost work time annually.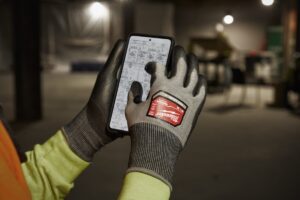 The glove's thin, lighter, and more breathable 18-gauge knit material and polyurethane dip allow for total mobility and better dexterity when handling small fasteners or manipulating small buttons and switches. A reinforced nitrile coating between the thumb and the forefinger adds durability in a high-wear area to withstand harsh jobsite conditions. The fingertips, knuckles, and palms are equipped with Smartswipe™ technology to allow the use of touch screen devices without removing the gloves.
Available in ANSI cut levels ratings A2, A3, and A4, these gloves are ideal for finish work, carpentry, electrical work, plumbing, and other fine tasks where cut hazards are present. The gloves have a premium heat transfer logo noting the cut level and feature color-coded wristbands for quick cut level identification, like other Milwaukee ANSI-rated gloves. Milwaukee Tool's new High Dexterity Polyethene Dipped Gloves demonstrate the company's focus on creating innovative solutions that won't slow users down.