For roofing contractors dealing with any disaster where water intrusion plays a role, Kett's HI520-02 portable moisture meter can instantly, non-destructively check a roof for water damage. The device can measure through shingles, deep into sublayers, to evaluate roof sheathing for moisture to assess the extent of water damage quickly and efficiently whether due to heavy rainstorms, hurricanes, or fire due to suppression efforts. This is vital to distinguish between salvageable and unsalvageable materials to cost-effectively expedite needed construction.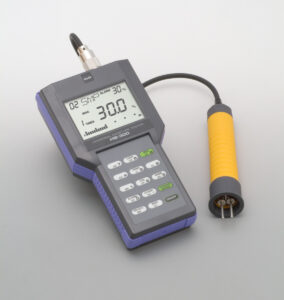 The hand-held, battery operated HI520-02 can measure moisture content from 1-40% depending on the product with an accuracy of +/-0.5%, under 20%. To increase accuracy and ease of use, it provides automatic temperature compensation and eight user calibrations. Two raw modes allow the user to calibrate for either deep or shallow samples.
An audible alarm makes it simple to test many items or locations to determine out-of-specification conditions without seeing the display. To determine moisture content, the device uses high-frequency capacitance and compares the di-electric constant of the solid with that of water.