LAMILUX, a producer of high-quality daylight systems, has significantly expanded its configurator tool. Architects, planners, and roofing professionals can now use this service tool to configure daylight systems themselves and download variant-specific data sheets, drawings, CAD data, and BIM models.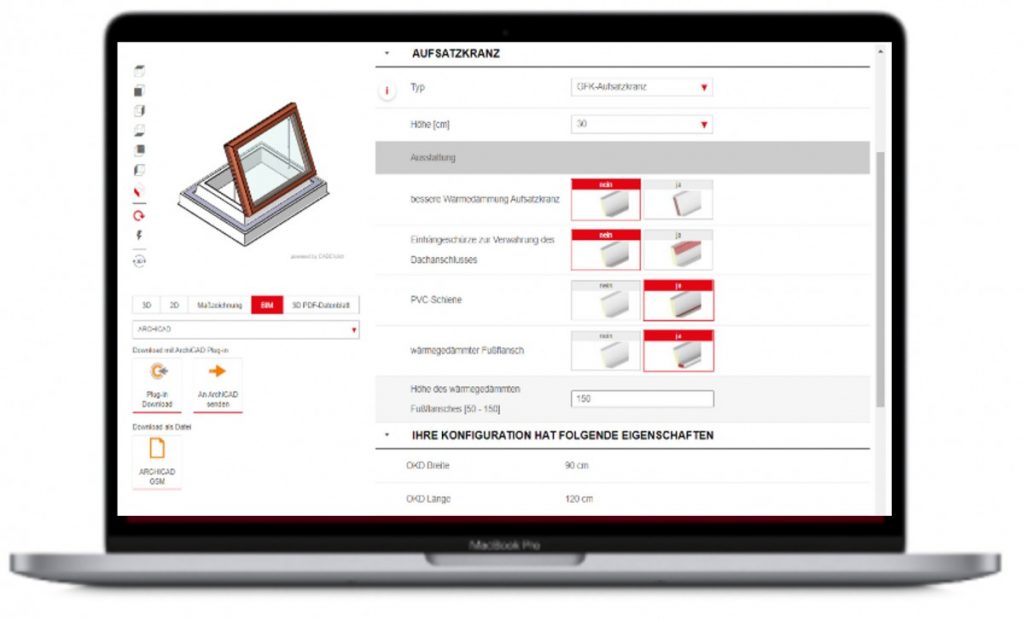 The planner can configure an individual variant of a skylight and in doing so is guided through a self-explanatory and dynamically adapting dialog. Plausibility checks run in the background and a live 3D viewer supports the planner in their process. That way the user can immediately see whether the configured product meets their expectations and what the technical values are. If everything is configured as desired, the required product data for exactly this generated variant can be downloaded, including BIM data, 2D and 3D CAD data, images, dimensional drawings, and data sheets, all in a variety of selectable file formats. In this way, rooflights, angular or circular glass skylights, and flat roof exits are created to measure and according to individual requirements.
Those who do not plan in BIM benefit from the PDF data sheet created in the product configurator. This contains the complete description of the configured daylight system including all technical properties as well as a dimensional drawing of the most important product dimensions and a link back to the configuration. In an active 3D model, the user can also rotate, cut, or zoom the skylight without CD software and in offline mode. Thus, this PDF data sheet is the comprehensive all-in-one document for the individual desired variant of LAMILUX daylight systems. The planner can save a configuration via a link, share it, and retrieve and edit it at any time. Once the user is satisfied with their skylight, they can request an offer or technical advice with just one click.