Equipment Notes: Commercial Roof Anchors
Understanding an Important Piece of Fall Protection Safety
by Pat Amicucci, Northern California territory sales manager, Roofmaster Products Company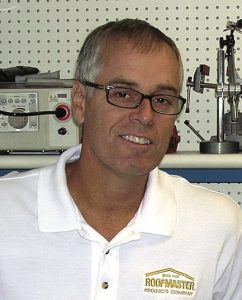 (Editor's Note: Pat Amicucci has been with Roofmaster® Products Company in his current position for more than 25 years as the Northern California territory sales manager. He is a certified Leister technician and has extensive experience and knowledge in all aspects of the construction industry, specializing in roofing equipment, tools, accessories, sales, and service. He can be reached at pat@roofmaster.com or (916) 296-6714.)
Fall protection safety has been in the industry for decades, and we are finally seeing strides by architects when it comes to designing anchors into the roof system. This is being driven by many things, including owners who are requesting them for maintenance safety, insurance companies mandating their clients conform with current OSHA requirements, and finally roofing contractors driving safety so that their crews can work safe at heights. It is easier said than done, and from the perspective of designing safety into the structures, there are seven main points that help determine what to do.
Understanding & Choosing
Once it's determined that permanent anchors need to be installed, what are the options? You have some basics to begin with, including: a cable system to outline the perimeter of the roof; a cable system that runs along the centerline of the roof; stand-alone anchor points that cover a particular radius; window washing anchors installed for specific drop points; and finally interior anchors for addressing potential fall hazard zones inside the building, including maintenance, attic work, HVAC work, and more. Fed-OHSA has a 6' trigger height for fall protection. Determining your needs is the first step and you may have multiple needs on a single project.
Anchor Installation Requirements
Anchors can be installed with various fastening methods including welding. Knowing and following these are an important part as the anchor is only as strong as the attachment hardware.
OSHA Requirements
Trusted fall protection manufacturers will provide guidance on what standard their products meet. This is important because falls from roofs and leading edges to lower levels injure and kill more people than anything else on the jobsite and it is an OSHA requirement to provide protection from falls to all employees.
Specification & BIM Tools
Specifications for anchors have been listed under various sections, typically found in the roofing accessories section of the American Institute of Architects' resource, MasterSpec®. There also is a brand-new section for facility fall protection now available through MasterSpec.
Aesthetics vs. Safety
Aesthetics are important to designers and having numerous options can help satisfy the requirement for safety and also be visually pleasing.
Trusted Fall Protection Source
Choose manufacturers that have the experience and tools needed to help you design a fall protection system. Customer service, technical support, and product documentation should be key considerations.
Fall Protection Information
Falls account for the leading cause of death and serious injury in the construction industry. Gaining knowledge will help you understand the forces generated. Understanding the importance of providing anchors will help inspire the design of fall arrest systems into structures.
Yes, there is a lot to learn and know when it comes to understanding commercial roof anchors, but there are wonderful resources and manufacturers that are ready to help. The OSHA website, too, provides additional resources related to fall protection and references that aid in recognizing and evaluating fall protection hazards in the workplace.