Eco-Friendly Spray Brings Asphalt Shingles Back to Life in West Linn, Oregon
by Ali Turner, editorial & multimedia manager
Summerlin Estates, a suburban, gated residential community, is situated near the banks of the Willamette River in West Linn, Oregon. Originally constructed in the 2000s, Summerlin Estates' property owners were disappointed to discover the roofs on multiple buildings were failing prematurely. Reroofing all of the buildings was not an option at this particular point in time, but they still needed to be attended to.
Aylwin Construction, Hillsboro, Oregon, was the roofing contractor on the job, bringing over 25 years of experience to the project. While they were brought on to replace one of the roofs, there was a unique, alternative option for the other buildings. Four of the buildings, instead of being reroofed, were treated with Roof Maxx®, a roof replacement alternative.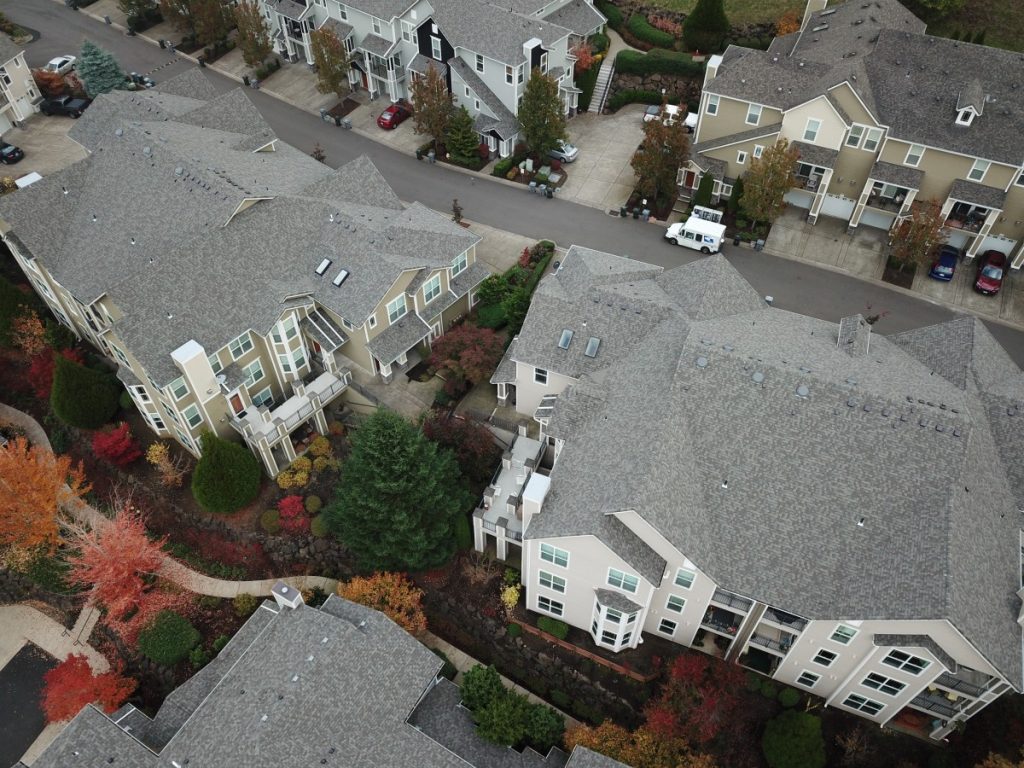 As asphalt shingles age, they start to lose their natural oil and become dry and brittle. Roof Maxx has soy fusion technology that soaks shingles in all-natural bio-oil, helping to restore their flexibility. This technology has given the Summerlin Estates Homeowners Association five additional years to catch up on reserve funding, at which time they will either replace the roofs or, if they're eligible, spray them again.
"Insufficient funds are a common problem for HOAs that need to address failing roofs," said Josh Robertson, certified dealer, Roof Maxx. "I believe Roof Maxx is going to play a huge role in addressing that problem in the near future." Roof Maxx is currently in the early adoption phase, but Robertson feels confident that roofing contractors will quickly see its benefits as an option to be used side-by-side with traditional roofing products. It's an eco-friendly plant-based product that uses 86% bio-based content, and applying Roof Maxx to just one house saves 3.8 tons of waste from landfills, 80kg of CO2 emissions, and 1420 kg of CO2 emissions from shingle manufacturing.
Roof installation in the Pacific Northwest can often be sidetracked by treacherous weather patterns, particularly rain, wind, and snow. For the Roof Maxx installers, this wasn't an issue. "We can apply Roof Maxx year round, even in the Pacific Northwest," explained Robertson. "We can spray in the morning, and it can rain in the evening." In fact, when this project was underway in May 2020, the team was able to spray one building per day.
While the majority of the compromised roofs weren't reroofed, they did receive some necessary updates. Aylwin redesigned the attic ventilation system, replaced exhaust vents, enlarged some intake venting under eaves, and mitigated some fire code violations.
Roof Maxx, according to Robertson, also makes the process of buying and selling homes much smoother. "This product has saved countless real estate transactions from falling apart," he said. "Roof Maxx is a great add-on service to an existing roofing or roof maintenance company." Roof Maxx allows contractors the ability to offer more options to people who can't afford a new roof. Then, when the time is right, roofing companies can get the full reroof contract from that client a few years later. As Robertson expressed, "We solve everyone's problem."